Our truck driver exam covers many areas including:
Flexible Testing Options
Our flexible tools allow you to administer the exam based on the specific needs of your company. We offer:
Configurable paper tests

Online assessments
Relevant Exams
You have the ability to customize the look of the tests to fit your company's website and name as well as the ability to add or remove factual knowledge sections based on relevancy. These configurable sections include: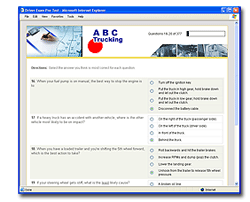 Intelligence Factors

Personality Factors

Regulations

Hazardous Materials

Flatbeds

Dry Vans

Moving Vans

Tank Trucks

Log Trucks

Reefers

Pick Up and Delivery

Cement Trucks (Mixers)

Pneumatic Tanks

Doubles/Triples
Please continue to our "Services" page for more information on our assessment services.